With so many available tanning products such as lotions, gel and mousses, there's no reason you can be deprived of getting that summer glow and make heads turn. These products including spray tan kits are responsible for what are known today as sunless tanners. Most of these products are available for home use and some are used on professional tanning salons. If you want to have that summer glow and you would like to try these sunless tanning products, here are some simple facts that you must know to get the most from using them.
Dihydroxyacetone – a sugar responsible for the fake tan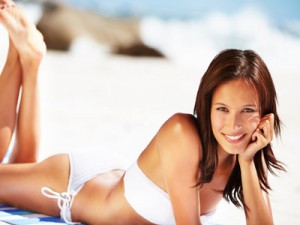 Most of these sunless tanning products have dihydroxyacetone or DHA that is safe to use. It is a sugar that interacts with the protein in the outer layer of the skin (epidermis) and produced a dark color or fake tan that starts to fade when the skin cells begins to shed off dead cells. The fake tan usually lasts up to three to seven days after applications.
Lotions, gel and mousses are the easiest to use
Because lotions go smoothly and gel has quick drying time, they have fair advantage over spray tan kits for home use. They have less sticky feel. All of the tanning lotions, gel and mousses are readily available in drugstores and online. Mousses don't have much moisture so they're perfect for oily skin. Most of these lotions, gel, cream or mousses are self-tanning and work gradually over a few days.
Spray tanning is perfect for face, neck and upper chest tanning
Spray tan kits are popular nowadays because unlike lotions, gel and mousses, the tan fades evenly. It's the easiest to use for the face, neck and upper chest. Most of these sunless tanning products give off bronze glow in as little time as in two or three hours that make it suitable for short call tanning.
Professional salon tanning is still the safest and with best results
Since preparation is the key in getting that summer glow by using spray tan, professional tanning done at a salon allows this to happen to every client. Clients are advised on the need of waxing or shaving the day before tanning. Spray tan Sydney has experts to work and pay attention to parts that are really dry such as the elbows, hands and feet to avoid tan turning too dark or into orange. Professional tanning also skips moisturizing that can interfere with even tanning and absorption.
Fake tan is in and thanks to sunless tanning products that allow every woman who wants to get that summer glow even without soaking under the sun.