For that 'golden' holiday, travel to Australia's Gold Coast in Queensland. It is one of the most scenic places on earth. Every year thousands of tourists from around the world visit this place to enjoy the subtropical climate and all kinds of beach activities. From sunbathing to snorkelling and surfing activities in Gold Coast this is a paradise on earth for the tourists. The 70 kilometers of sun-drenched beaches of the Gold Coast is indeed a surfing paradise and it has established itself as a party destination for visitors from all over the world.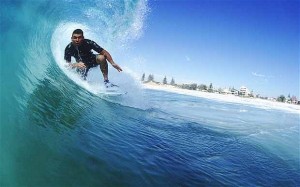 It has many great attractions to offer visitors. The Theme Parks to visit would be Movie World, Wet'n Wild, White Water World and Sea World. At Dream World you can experience the Cyclone Roller Coaster, Giant Drop, Buzz Saw and Tower of Terror. Other activities would include visits to the Wax Museum; the Iceland Skating Rink; the Currumbin Wildlife Sanctuary, which houses 200 species of birds, reptiles and mammals. Another must-visit is the Carlton Brewhouse tour. For lovers of theatre and art there is the Draculas Cabaret Burlesque-style entertainment – a show that is so popular it has been running for the last 30 years. Mt. Tamborine, the 'T' Mountain National Park are great nature attractions and not to be missed out is Skypoint Observation Deck which gives a fantastic 360 degrees view of the city.
In the you can watch many life saving champions in action or see the world's best surfers take part in the Quicksilver & Roxy Pro. You can also join the iron men and women of Australia in the Coolangatta Classic ocean swim. From the Gold Coast you can island-hop and get an opportunity to see the area's aboriginal culture. West of the Gold Coast you will find lush rainforests and national parks such as the Border Ranges, Lamington, Nightcap and Main Range which are all world listed national parks.
After experiencing the thrilling theme parks and beautiful surf beaches of the you can take a trip to Brisbane, a vibrant city. You can take a cruise down the Brisbane River or climbing the Story Bridge are great ways to spend time; also a visit to the South Bank if you are into art and culture. You can also get to see koalas in the Noosa National Park, which is a coastal rainforest. If you are looking for a bit of sophistication you can visit the Noosa's Hastings Street.
Finally a trip to this amazing place would remain incomplete without a safari on a Gold Coat fishing charter. Imagine salty winds gushing against your face, white splashes of water and a blue sea all around. And to ice it up with some fishing activities deep into the sea, does it get any bigger than this? This is what Gold Coast is all about – full of thrill, rush of adrenaline and plenty of adventure on-board deep sea fishing charters.
So when you travel to Australia for your next holiday, book your air tickets online and ensure you have a booking in one of the good Gold Coast hotels. After enjoying great surfing activities in Gold Coast, basking under the sun, and having fun in Australias golden beaches it will definitely be a holiday to remember.
Enjoy the Scenic Beauty In The Gold Coast, Australia

,