If you are thinking of going on vacation this summer, why not consider an island vacation. Gili Trawangan and its sister islands are the most popular tourist destination in Lombok. They used to be one of Indonesia's best-kept secrets. However, nowadays, it's not just backpackers who are coming here.
Though there are three Gili islands, you'll probably want to spend time on Gili Trawangan the most. The island is the most developed of the three, though Lombok is close enough that you can just do a day trip. Here are some basics about this popular tourist destination.
Why Go?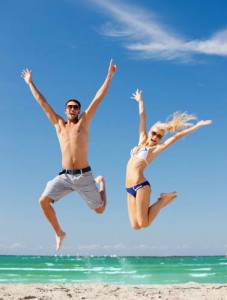 The main question that people ask is why visit Gili Trawangan and its sister islands? The biggest attraction of these islands is their eco-friendly tourism. These aren't your ordinary Asian beaches that have been over developed. The people who live and work here are pretty conscious of their impact on the environment and seek ways to showcase the natural riches rather than exploit them.
First of all, all the islands have scuba diving site. The Gili islands are excellent scuba locations and they offer a cheaper experience than in Bali. Second, you can go snorkeling, kayaking and more. Gili islands hotels often have associated services that will make all these easy to experience. You can enjoy the joys of the sea without worries.
The islands even have a great nightlife. There are regular party nights scheduled so you can have some fun under the moonlight. Attend the famous Full Moon parties in Trawangan to complete your island enjoyment.
Where to Stay?
If you're interested in going, there's one thing you have to iron out beforehand: where you will be staying. Though it is possible to get Lombok accommodation, and then take a boat to the islands, that is only good for a day trip. If you want to have the full Gili islands experience, it is best to stay on the islands themselves. This makes it easy for you to go around the place and savor everything.
Fortunately, it is easy to get an accommodation in Gili Islands. There are a lot of hotels and short-term accommodations available. If it is the low season, you'll probably only have to pay 150,000 IDR. That's only for a room though. For a more comfortable experience, you can get a double room at a hotel with air-conditioning and a private bathroom for double that price. If you've the cash, then you can rent an actual seaside house for a minimum of 400,000 IDR.
Have a Great Time
With all these islands have to offer, the prices are well worth it. Go to the Gili islands this summer and experience the sea's beauty!
Experience the Joy of the Sea at Gili Trawangan

,