Gold Coast is well known for having great places that you and your family can enjoy themselves during summer seasons. If you like hot summer weather, visiting Gold Coast will give you a memorable experience and you will definitely enjoy your short trip or long vacation. During this season the rain falls in form of short, tropical storms mostly in the high afternoon or very early in the evening and . The following are places to go in Gold Coast during summer that will give you the chance to enjoy yourself.
Beaches
There are numerous beaches which are controlled and regulated by volunteers and professional lifesavers. If you decide to tour around here you will find red and yellow flags which mark the patrolled area in the specific time of the year. Always you are supposed to swim between flags. Around the beaches there very nice places for instance, North Burleigh, Surfers paradise, Broadbeach which are about 3-4 km. To ensure that have the best moment don't swim while you drunk or during the night.
Currumbin wildlife sanctuary
You got a chance here to enjoy wildlife free shows and displays as well as indulging yourself with various varieties of indigenous creatures. Not forgetting about the Aboriginal dancers who are always there to entertain you with interesting performances. Experience the memorable innate wildlife and coastal rain-forest encounter.
Oz ball zorbing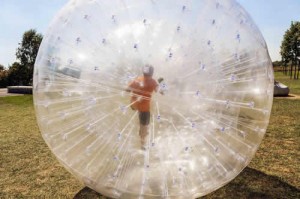 This is the one of the world coolest adventure activity, whereby you have the chance to watch players rolling down a hill in a huge inflated ball. The place is just perfect to go zorbing hence you will spend your leisure time in a very engaging manner.
Skydive
When you are here you have the opportunity to experience the ultimate rush of the skydiving operation. In involve adrenaline rush of hurtling toward the planet at 200 km/h feeling the sensational view as you gentle glide towards your beach landing. You must feel cool.
Dreamworld
Don't hesitate get to feel and seek the new bone chilling ride, with your youngest. Wow you will be surprised since this is the best place to be. You will experience unlimited fun in this in this place that you will leave to remember. Make a point of touring wonderful place.
Reasons to hit up during the summer.
Flights are very affordable and cheap.
There is wonderful and plenty of accommodation.
It is a good home to one of the best buffet breakfast around there.
Foodies will be in heaven since they are very tasty.
Anytime you free you can comfortably head for the hills.
You need traditional dinner? You will find it and a show sorted.
You can't get bored since there is wine tour ghost, tour jet, boat rides and jet pack.
The above are places to go in Gold Coast during summer, if you planning to visit Gold Coast spending your time on such places will be a great experience and you will get the opportunity to enjoy your summer season effectively. There are plenty .of things that you can do making your leisure time just fantastic and wonderful to satisfy all kids and parents of each and every kind of all tastes, year around during the summer time.