A family vacation to Gold Coast Australia is a great idea of a trip. The Gold Coast has so much to do for people who are vacationing there. For starters, the Gold Coast has hundreds of miles of beautiful beaches with plenty of fun stuff for the whole family to enjoy. The Gold Coast offers some of the best surfing in Australia. If you and your family need help locating the top surfing is and family oriented beaches, you can always ask a travel guide to point you in the right direction. There are also places where you can rent a boat and enjoy a boat ride on the beautiful Gold Coast water. Being a coastal town means the fishing there is very good and is a nice quiet but fun family activity to do.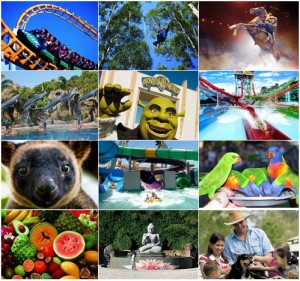 A family vacation to Gold Coast Australia wouldn't be complete without visiting some of the Gold Coast national parks. Springbrook National Park has a lot of beautiful scenery. There are plenty of walking trails and sightseeing. There are waterfalls, caves, and a variety of animals that can be seen in the park. Lamington National park is another must see tourist attraction when on vacation. Most of the state parks on the Gold Coast have travel guide magazines and brochures that will guide you and the family around the parks.
The Gold Coast just like any other major city has a lot of nice family orientated restaurants and plenty of activities to keep a family busy. There are great zoos that are great for family traveling with kids or a family who love animals in general. There are also aquariums in Gold Coast that has a variety of marine life to be seen.
The Gold Coast is home to the Warner Brothers Movie World. It's a very large amusement park for people of all ages. There are a lot of different rides there both for adults and children. There are numerous of awesome roller coasters. The Superman Escape is a fun ride to try. Scooby-doo spooky coaster is a coaster that a family can enjoy and ride together. Gold Coast is a very cultural and artsy city. There are numerous of art galleries and museums that a family can check out. During certain time of the year, there are several different kinds of festivals that are great for family.
Gold Coast is a major tourist destination and there will always be fun things for a family to do and to see.
Let Gold Coast Australia Amaze You

,