If you are planning to go to Gold Coast for some surfing fun, one of the things that you should look for is a great place to stay in. Aside from the fact that Gold Coast is a tourist destination, this coastal part of Queensland is actually a residential area as well but it welcomes thousands of people every single year and it may be hard for you to find decent accommodation if you didn't prepare well for this.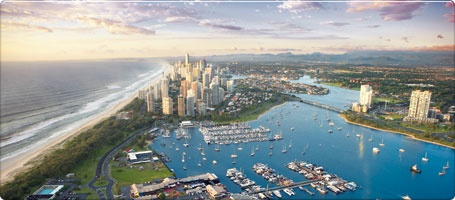 Beach Resorts and Hotels 
The most popular hotels in Gold Coast as of the moment are 19th Avenue on the Beach, Surfers Beach Side Holiday Apartments and Biarritz Apartments. The first two offer the most breathtaking views of the sea and sand while the last one feels more secluded, thanks to the tropical gardens around it.
A lot of these hotels and apartments are outfitted with heated pools and Jacuzzis, in case you want to have a relaxing swim instead of the high-energy surf in the beach. You will also find the amenities offered to be top-notch. Plus, you will be treated to the best service any vacationer will love.
Hinterland Retreat 
Non-surfers will also find Gold Coast to be a great place for total R&R. The Kirra Beach Tourist Park, the Mouse House Rainforest Retreat and the Polish Place are only some of the places which can give you just that.
These idyllic retreats will definitely make your vacation a memorable one. Some of these resorts offer hikes in the nearby rainforest and local villages where you can find some of the most exceptional flora and fauna and immerse in the culture of the natives.
On the Cheap 
The places mentioned above are quite pricey but backpackers and budget travelers would not need to worry when they are in this amazing part of Australia. The Aquarius Backpacker's Gold Coast, Coolangatta YHA Backpackers and Islander Backpacker's Resort are only some of the areas where you can stay in for a very low price.
Of course, you would need to share dormitory style rooms with other vacationers but these are pretty clean and decent. You can even cook a feast in the fully equipped kitchens which they have prepared for their guests. Aside from being low-cost, staying in these places is also a great way of making new friends.
Gold Coast is known as a place for fun and if you have a place where you can rest and recharge for next day's lively activities, you will surely have a great time.
The Best Places to Stay in Gold Coast

,