Imagine being alone in a foreign land having a sudden attack of extreme headache, asthma or allergy: How would you cope? This particular situation could be handled in a breeze with the help of appropriate or even with cheap first aid kits would do.
A basic first aid kit should contain bandages, antibiotic ointments, alcohol, adhesive tapes, antiseptic solutions, as well as common medicines for fever and pain. Such first aid kits may easily be bought in any drugstore or local supermarket, making it highly accessible to almost anyone.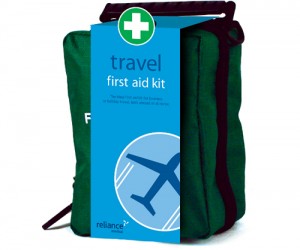 On the other hand, a person with an underlying medical condition or has a previous history of an allergy or common body pain problems, a more specific first aid kit supplies is recommended. When travelling out of the country, the most common health challenge a traveler goes through is a skin allergy attack that may be triggered by a number of environmental factors. Thus, it's vital to tuck in some antihistamine tablets as well as calamine lotion to help relieve the symptoms. Moreover, a humid weather may also cause anyone to suffer from mild to severe headache that makes a few tablets of Paracetamol or Ibuprofen of utmost importance in his first aid kit.
Something as basic as an insect repellant, sunscreen and a whistle may also come in handy during emergency situations.
A constant traveler must also bear in mind that the medicines in his first aid kit have expiration dates so it must be checked and replaced regularly to avoid further problems. It pays to make sure that you have the enough amounts of these basic necessities depending on the duration of your travel to a certain place.
Another thing to consider when travelling with cheap first aid kits is the luggage space that it will occupy. So, when you plan to travel light, make sure that your kit contains only the supplies that you will most probably need and avoid over stuffing it with unnecessary things. Make a list of the medical supplies that you usually consume so you would not have to miss bringing them along.
Furthermore, the proper storage of such cheap first aid kits is fundamental in maintaining the quality and effectiveness of the medicines inside them. Ascertain that they are kept in a cool and dry area of your baggage to avoid compromising their quality or the possibility of contamination. Readiness always pays especially when travelling alone, thus, a first aid kit is an all-time necessity.